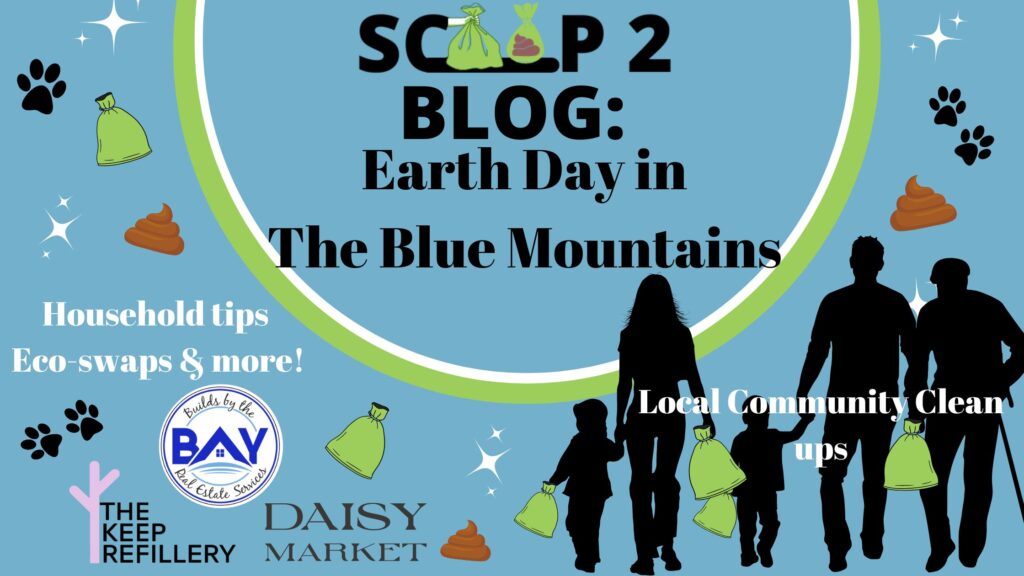 April 22 is Earth Day, so the Scoop 2 team wanted to write a blog post about Earth Day in The Blue Mountains with scoop 2! We are sharing local community clean ups for earth day in The Blue Mountains, providing some household tips, and then moving into what you can do in your daily life to help our planet. So keep reading friends!
Earth Day in The Blue Mountains:
For Earth Day in The Blue Mountains we have several awesome local clean ups you can participate in! To kick off a wonderful clean up weekend Georgian Bay Forever is hosting a shoreline cleanup at Little River Park on Friday, April 21, from 1 p.m. to 3 p.m. On Saturday April 22 at 10am there is the Clarksburg Village Annual Spring Clean-up. For this event gloves & garbage bags will be supplied, and those who are interested should meet at the Lions Park Pavilion. There is another clean up on Earth Day Saturday April 22 from 2pm-4pm this community clean up will meet at The Bue Mountain Town Hall. If you are located elsewhere in Canada, be sure to check out the Pitch-in Canada website to find local clean ups near you!
Clean-up Collection:
There will be Pitch-In branded waste collection bags available for free at The Blue Mountain Town Hall and at the landfill and recycling depot, so grab then while supplies last. Once these bags are filled the waste collection bags can be placed curbside on your normal collection day. These bags will be collected free of charge, with no garbage tags necessary! Although lots of waste will be collected, be sure to separate the garbage waste from recycling that you collect on your clean up. There is also an Ontario Public Litter Clean-Up Guide you can download for more info.
Earth Day: Household Tips
What we can do for the earth when it comes to our household? There are so many things we can do, starting with when we wake up… limiting our water consumption and being mindful of how much water we are using when we get ready in the morning. Using products that are good for the environment: if you are local try shopping at the Daisy Market in Clarksburg or the Keep Refinery in Meaford for some refills of your everyday products to limit your plastic consumption and for some awesome eco-swaps. When it comes to the meals we eat, ensuring we don't let food go to waste – so being crafty with our leftovers (Try watching Best Leftovers Ever! on Netflix to get inspired). Within our home there are so many switches we can make that will impact our earth for the better… we can all switch to LED lighting in fact, Local REALTOR®, Trish Duncan of Builds by the Bay Real Estate (if you're looking to make the move up here we highly recommend her services!) came out with an AMAZING blog with Environmental Home Swaps that Increase your Home Value and are great for the environment! I could dedicate an entire blog post to swaps to make, but don't go tossing your products to buy something eco-friendly… start by using what you have and practicing mindful shopping and purchasing with the environment in mind.
Your Daily Walk: Scoop 2!
Finally, at some point during your day you likely head out on a daily walk, so why not make everyday earth day and scoop 2! It is our mission to inspire you, to build a community of like-minded individuals & pet owners who want to make a difference every day. Our goal is to get more people to scoop 2 pieces of pet waste and litter on their walk to protect our watershed. Why is this so important? Dog poop left on the ground can be washed into storm sewers that lead directly into our streams and wetlands. The poop contains harmful bacteria which can affect our groundwater, the health of aquatic wildlife, ourselves, and our children. Same goes for litter, this ends up in our watershed affecting aquatic creatures and wildlife. So lets make every day earth day and pledge to scoop 2 on our daily walks!
We hope this blog was helpful if you are looking for ways to Celebrate Earth Day in The Blue Mountains and how to make changes within your household. If you want to learn more about Scoop 2 visit our Frequently Asked Questions! You can build on your education by visiting the Scoop 2 Blog! Each month we share thoughtful commentary, helpful advice, cool pet-products or inspiration to get you out scooping 2. And if you are someone who is looking to make a difference in your community be sure to join the poovement and sign the scoop 2 pledge! You can also follow us on your favourite social media platforms (@scoop2poovement), share your before/after clean ups and get inspired with us.